Unique bundle
The need was for a new look which appealed strongly to very different age groups.
The UK's only co-operative mobile & broadband provider, the Phone Coop wanted a powerful rebrand which would support the work of their in-house design and social media teams and increase their appeal to younger, less affluent mobile phone users. It also needed to avoid alienating existing customers, amongst whom the dominant profile was, in essence, older Waitrose shoppers. Given the very different priorities and tastes of these groups, this was one of many challenges with this project. Helpfully, though, a significant volume of recent research into the profile and priorities of their customers was available for us to take into account.
6
Creative directions explored.
Rarely an efficient way to do things but, with people who care about the business, it is always effective.
15
More projects
prior to merger with Mid-Counties Co-op, including work for online & print media, plus annual and half-yearly Report & Accounts.
£11.1m
Record sales
Turnover hit a new high in the year following rebrand, which played an important role in improving sales, especially to younger buyers.
"The new branding reflects our vibrant technology business and communicates our values as part of the international co-operative movement, which is at the heart of what we are all about."

Vivian Woodell, the Phone Coop founder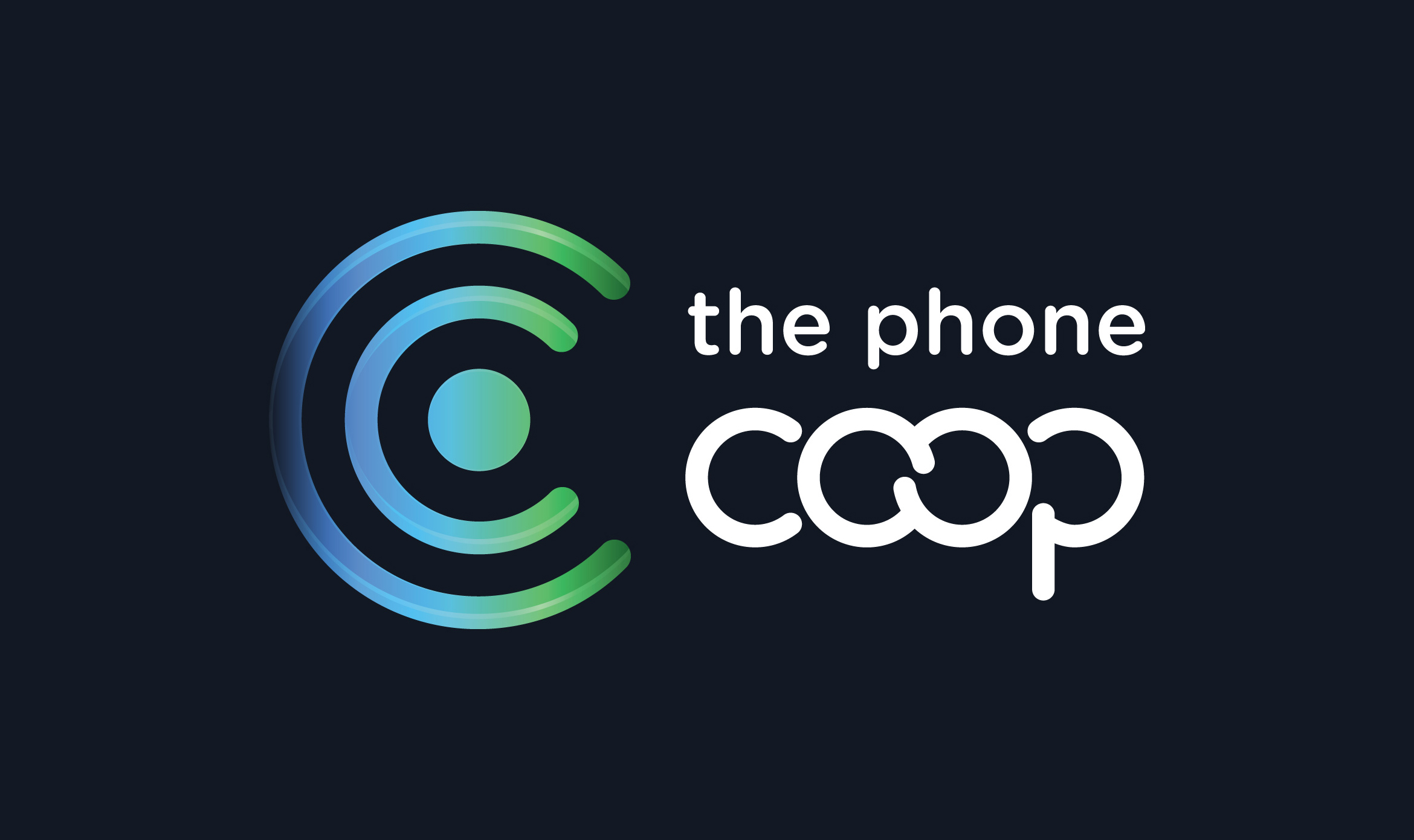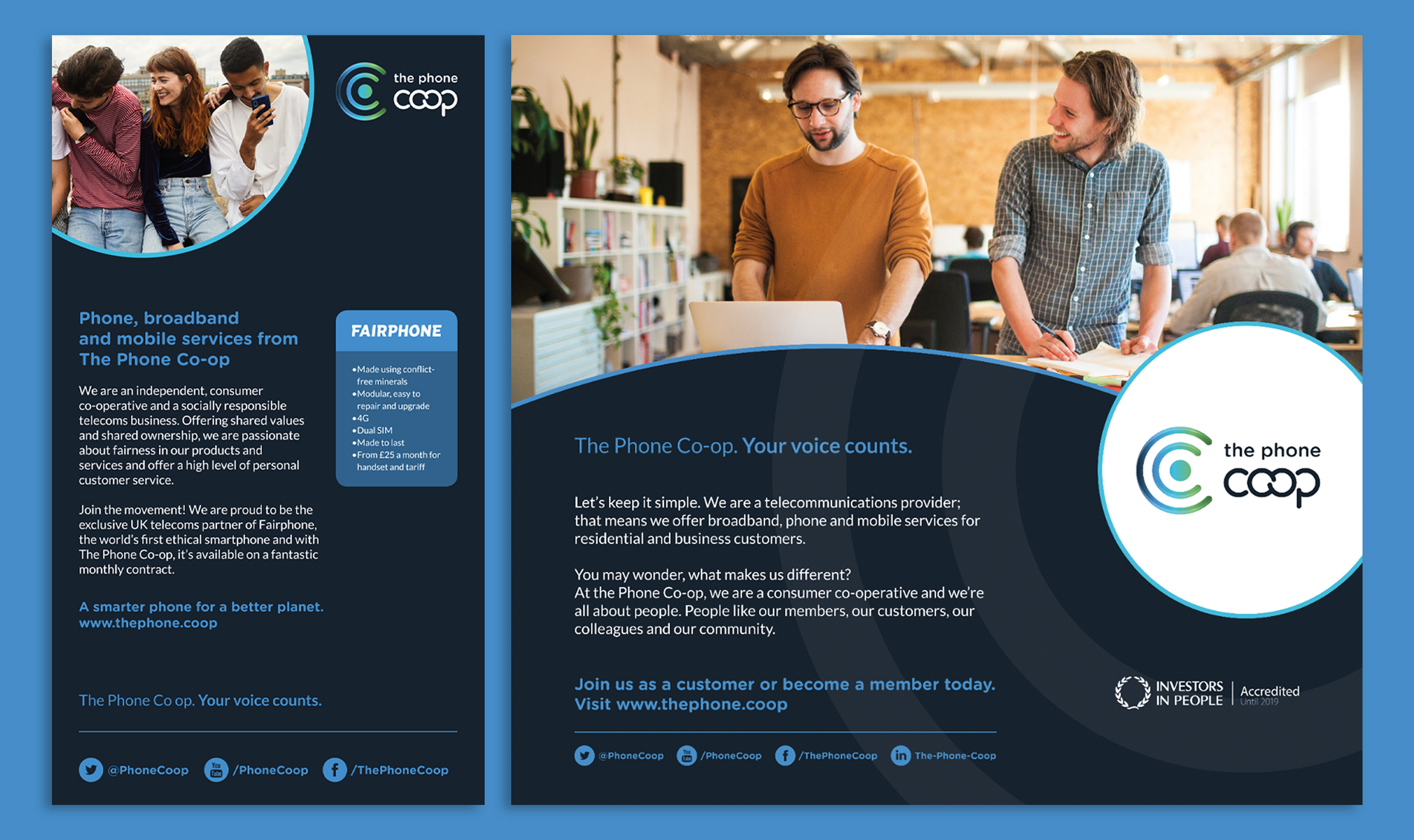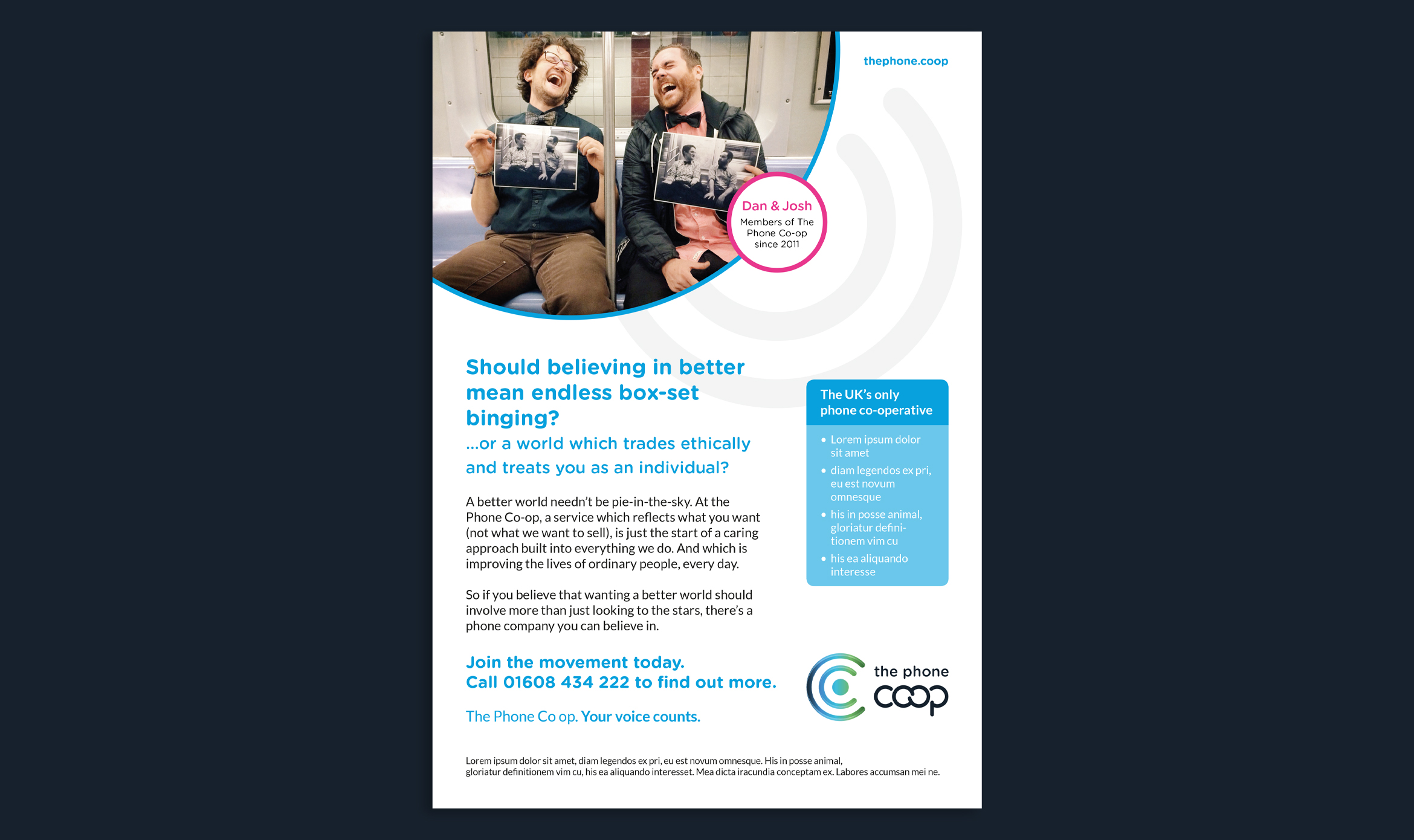 Download difficulties
Securing enough data about the business is not always practical.
The rebrand came at a turbulent time for UK co-operatives. Abandoning their use of the UK national brand in favour of the relatively unknown international identity, the Phone Coop wanted to emphasise their own distinctive nature, too. Culturally, it was going through changes which would take a while to work through so, whilst we had good data on their customers, there was no appetite or budget for deep research into what made the business tick. This created hurdles to the basic visual ID challenge, not least how create something authentic to our client and incorporate the dominating international 'coop' logo.
Testing different lines
Exploring what doesn't feel right is inefficient but, with people who care, it works in the end.
Adopting a more exploratory approach than usual, we worked with Phone Coop's terrific marketing manager to flush out the emotive heart of a business that is part of a huge social justice movement, producing far more creative treatments than we would normally offer. This was inefficient but it worked, eventually prompting the then CEO to remark: "But I founded this business to be a beacon for social change".
This was a big deal: if your staff and customers know that the business is there to be a beacon for social change, and if that is allowed to influence everyday decision making, then lots of good things follow, not least a route which appeals to socially and environmentally aware consumers of every age group. Our job was to help communicate this message.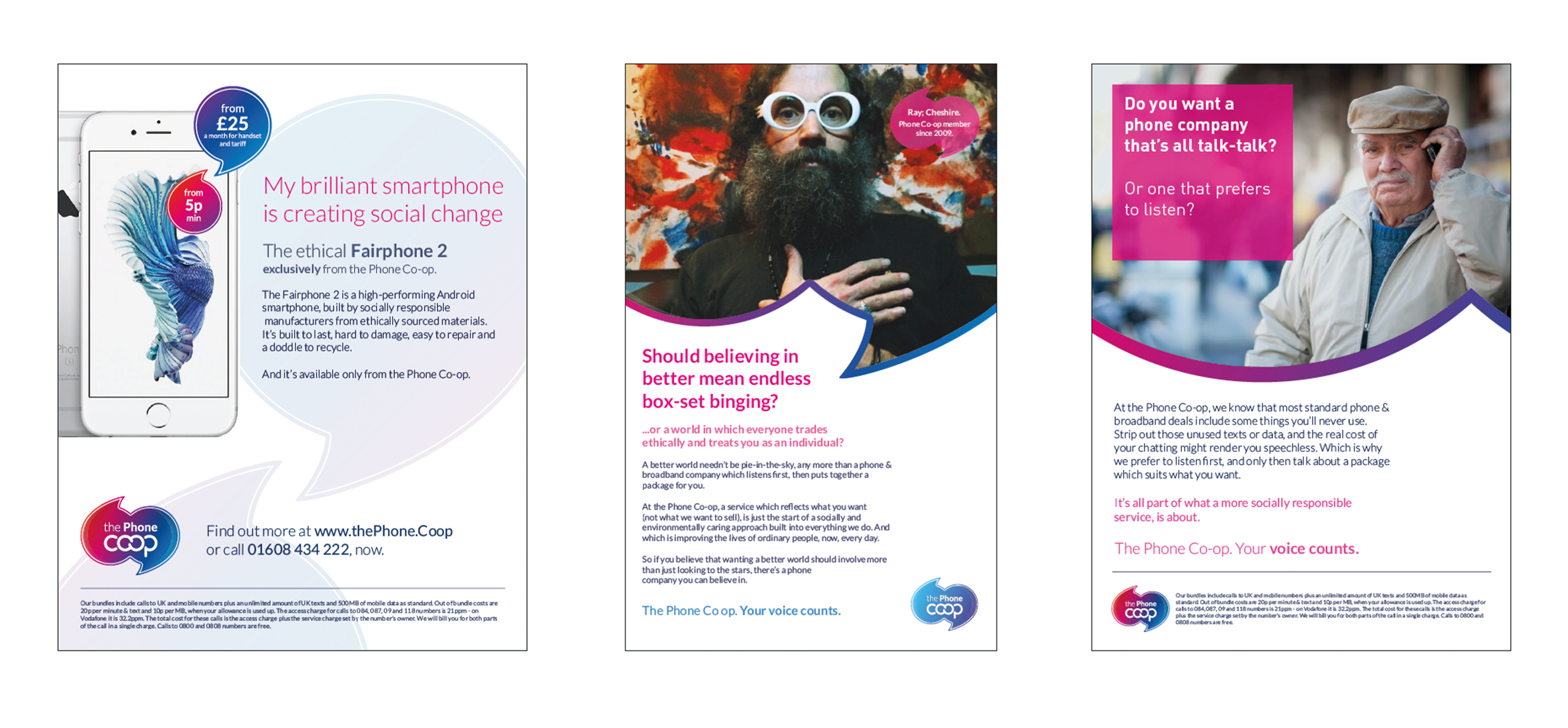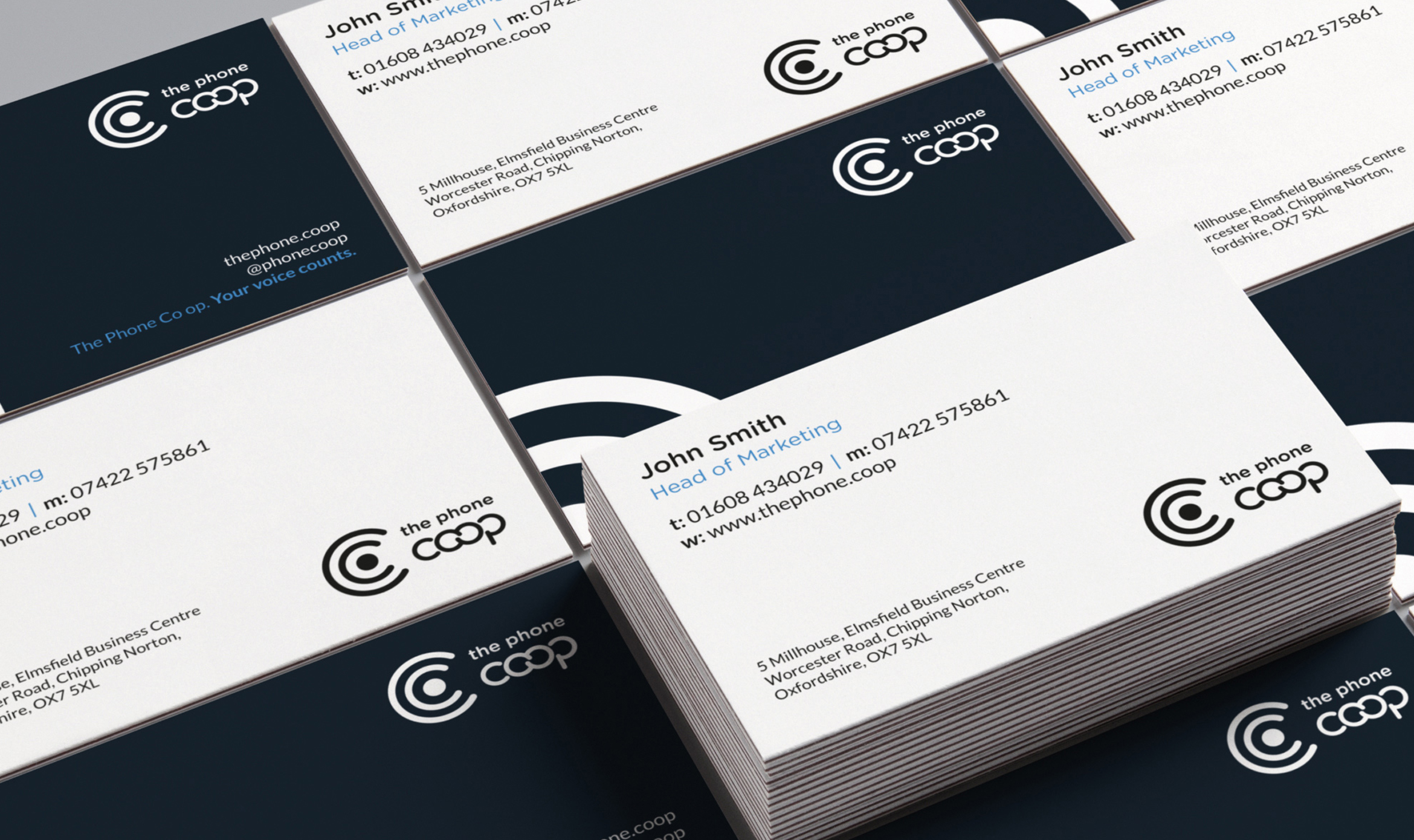 Superfast connection
A new identity and way of talking which is easy for customers to understand and for in-house teams to apply.
Our rebrand reconnected the Phone Coop with their purpose. They loved how practical it was for their in-house teams to use, especially as it came with a comprehensive, user-friendly guide. It also gave their new CEO the foundation he needed to make the Phone Coop "The preferred choice for other co-operatives, co-op members and those of like mind". The Phone Coop sales have since improved dramatically and, much more importantly in our view, so have their customer ratings.
Following the rebrand, we were delighted to be asked by the Phone Coop to produce designs for numerous new digital and print campaigns, including each of their annual and half-yearly Report & Accounts, prior to their recent merger with the Mid Counties Co-operative.