Initial survey
The client was looking good, having a smart new visual ID, but still lacked a confidently distinctive market position.
Just the words 'corporate structure' make eyes roll, then glaze over, in quick succession, so it was rarely mentioned. Yet it is the regionally focused and flexible structure of this national, upmarket firm of estate agents, which sets it apart, which lies behind its culture and enduring success. When they came to us, Jackson-Stops had very recently adopted a smart new visual identity created by a central London firm BUT, because that process didn't look at what the company is like, it failed in terms of distinctive positioning. The job was incomplete: Jackson-Stops still lacked a convincing way to talk about what makes them special and how it benefits their clients. Worse still, in failing to highlight the source of its cultural strength, Jackson-Stops appeared to be hiding it, giving credibility to the incorrect claim by rivals that it was "just a franchise".
20
member companies
to keep informed and happy
35+
designs
required for online and printed media
60+
projects
for this client to date
"The outstanding strength and effectiveness of your work for us has been matched only by your patience."

Nick Ferrier, Director and Head of Jackson-Stops Marketing Committee
"It is rare to find people with a thorough understanding of what makes us special and why it matters."

Nick Leeming FRICS, Chairman
Working with the landscape
Shared decision making is great for customers, but hard to engage with.
Like a block of flats in which the owner-occupants share ownership of the freehold, Jackson-Stops has a consortium structure. There is no big head office (or overhead) and 23 regional member businesses own the brand collectively. Within agreed rules, each regional company is free to do its own thing. With no distant bosses or shareholders, this is great for local commitment, but it can make it hard to push through anything other than vanilla solutions. Fortunately, we have known Jackson-Stops a long time. This helped us to both address the central need and to design creative solutions which cater for regional autonomy.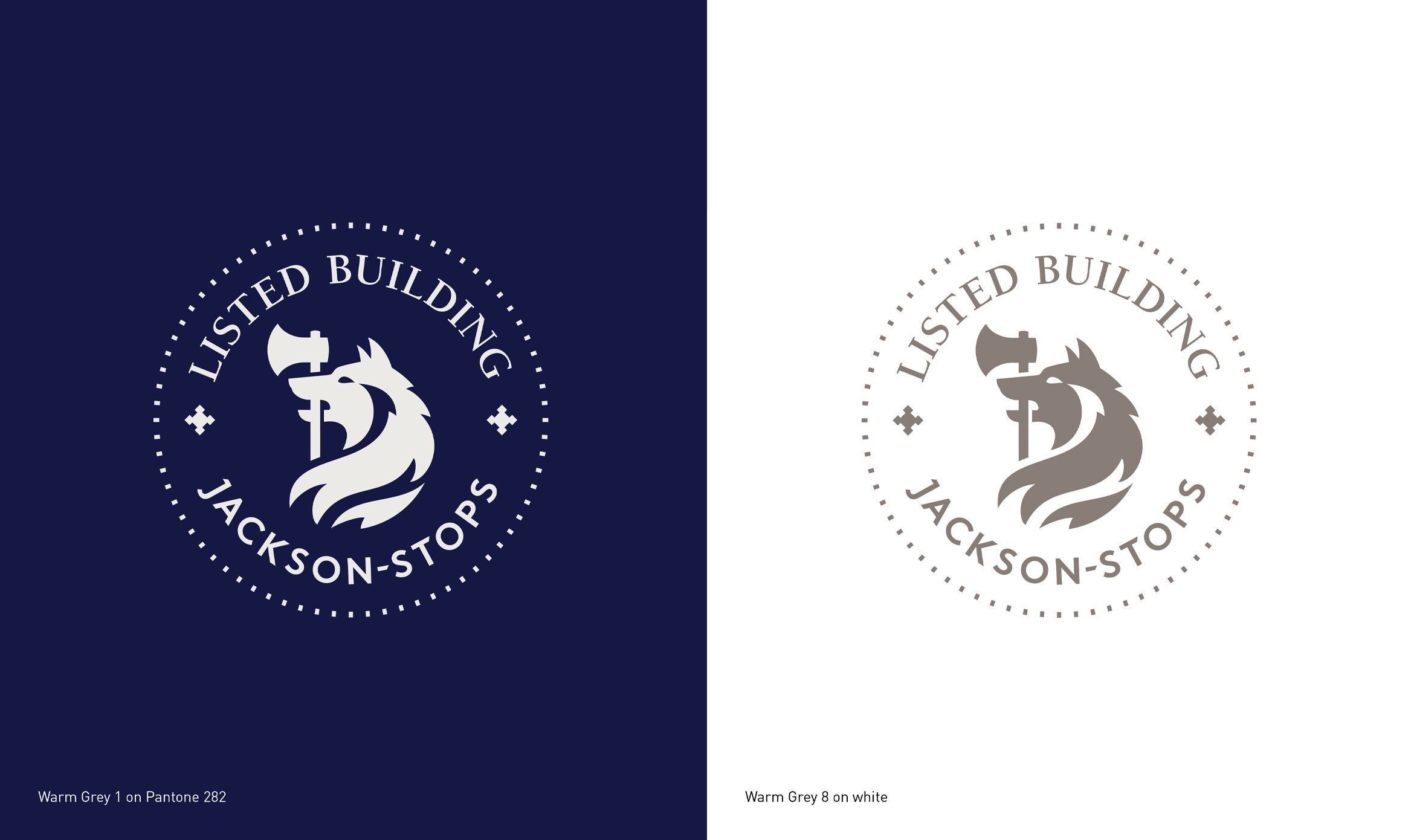 Maximising kerb appeal
Highlighting one simple, relevant outcome, opens the door to everything else.
Our positioning resonates with Jackson-Stops audiences because it refers to an outcome which is relevant to them. Specifically, probably thanks to good staff continuity and owner-managers who live in the areas they serve, Jackson-Stops has unusually loyal clients. Direct testimonials and publicly available online Google reviews show this, and it culminates in a credible claim that, more often than others, they get the best buyers, first.
Our tagline – The national agents locals recommend – prompts questions and discussions about this. It felt right to Jackson-Stops, especially regionally, because it gives them the flexibility to talk about their specific local strengths and services.
Completing the deal
Creating over 35 cross-media designs and templates for each region to use as they wish.
To start using the 'locals recommend' tagline and show how they add value, Jackson-Stops asked us to create a new national corporate brochure. They also commissioned us to design templates for dozens of advertisements for use online, in print and direct mail, along with full artwork and guidelines. This has enabled each independently-minded office to download the pack to use, as they wish, with their local suppliers.
Perhaps most importantly from a brand strategy perspective, almost all offices are now increasing their efforts to secure online reviews. This brings direct benefits to them, builds the national value of the brand and strengthens their differentiation further still. Corporate self-actualisation in action!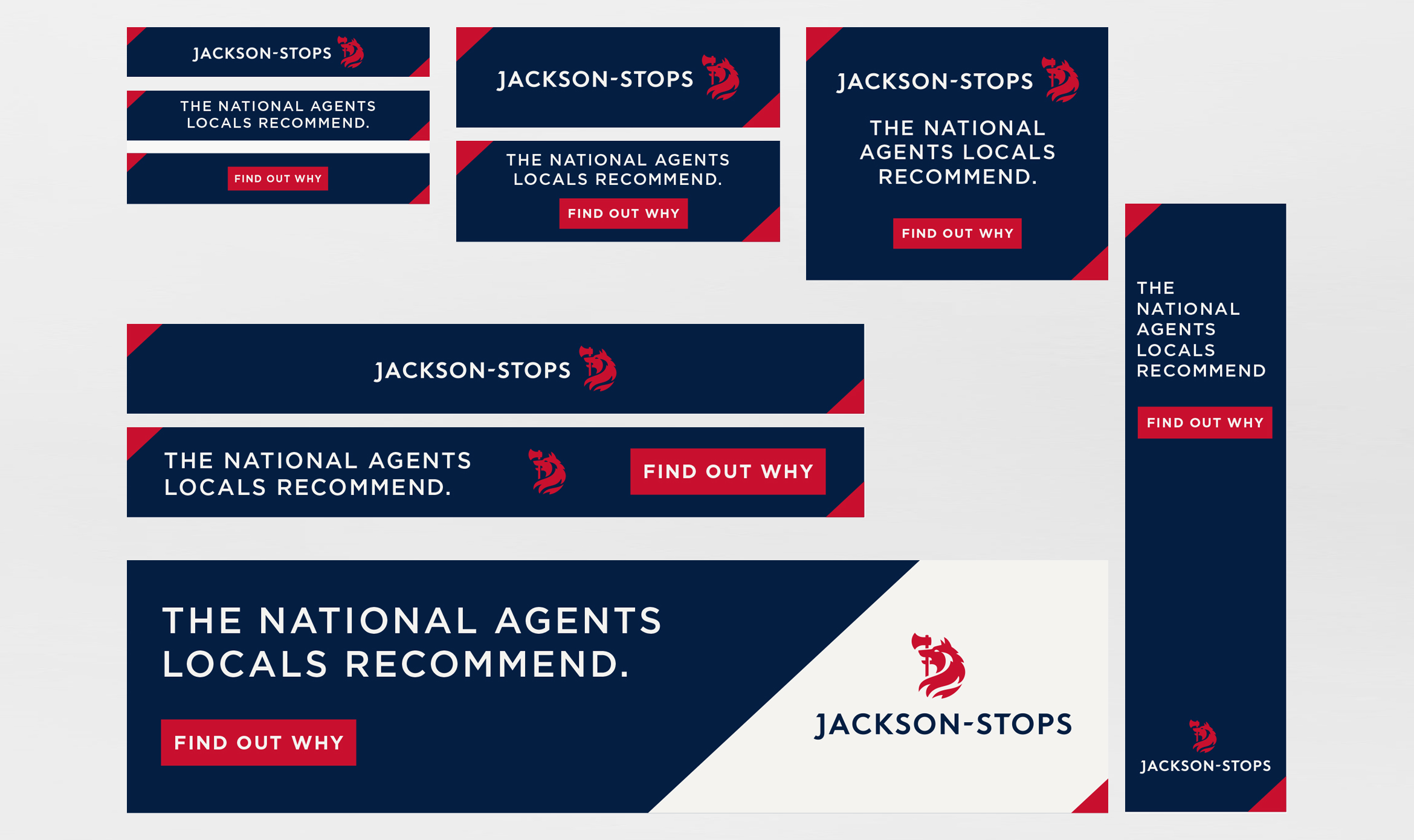 "Your beautifully designed and written work has played a vital, long-term role in transforming perceptions about our brand across London and the South East."

Nick Butterworth, MD Jackson-Stops & Staff (London Residential) Ltd