Letting rip
Over the 18 months from launch, the average month-on-month increase in ticket sales was 22.2%. That's every month.
Greeted with massive enthusiasm by fans (whose Facebook comments give totally unfiltered feedback), the scale of Dream Car's growth since launching the new site and brand has been quite extraordinary. It is now a monster amongst minnows. Alongside, their Facebook following has gone from 20,000 to over 160,000 in just over a year, their livestream video ticket draws attract well over a thousand viewers each time and their customer base grows broader and bigger – by thousands – every month. We are now working with Dream Car to develop their offering and stay ahead of their many, many imitators.
94%
5 star reviews
Of over 3,700 Trustpilot reviews, 94% give it five stars – and most of those specifically praise the website.
100x
increase
in monthly ticket sales since our initial briefing. To cope with such scaling up, the software has been developed at similar pace.
1,200
concurrent users
At peak times the site regularly copes with over 1,200 concurrent users, whilst taking three orders per second.
"Looks good, miles easier to navigate and runs so much smoother."

Customer feedback on Facebook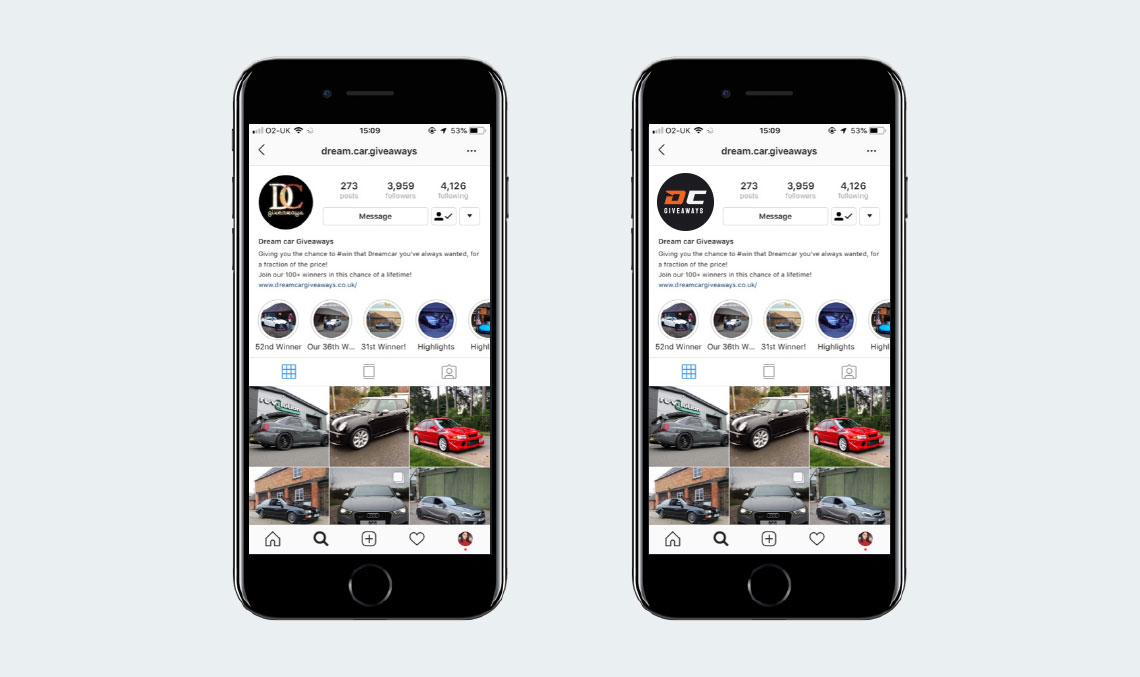 Starting grid: Where it began
A great, growing start-up in need of a stronger, better looking vehicle.
Established early in 2018, Dream Car Giveaways is owned and run by three young petrol heads who started a Facebook page about high performance vehicles, and holding competitions for cars which fellow enthusiasts could win in a highly transparent, exciting way. They came to us in late 2018 needing proper branding and a website capable of handling levels of visitor traffic which their technology was struggling with. This was around 20,000 regular visitors and several thousand ticket sales each month i.e, a small fraction of the demand they now enjoy.
Defining great performance
Professional but fun, reliable but fast.
This was a game of two halves. First, we had to make sure that the brand, website and technology looked great and felt utterly professional to use – yet also allow the founders' bantering, unscripted good nature, to shine through. The second challenge was technical: how to cope with constant, massive increases in visitor traffic, ticket sales and order numbers, alongside exponential growth of the database.
Designing for speed
Creating a site which is quick and enjoyable to use, even as its user base grows.
Everything about the website reflects the open nature of the Dream Car founders, their expert knowledge of the cars and their desire to look after their customers. Automating wherever possible, we created branded user journeys aimed squarely at their petrol-head fans, making life easier and more enjoyable for them and for the guys at Dream Car (who manage all daily competition activity themselves). 
We then, almost immediately from launch and especially during 2020, had to cope with the technical challenges of extraordinary success. This started with rewriting the core competition software, gradually progressing to employ huge hosting resources. According to the hosts, global WordPress specialist WP Engine, Dream Car Giveaways now ranks amongst the busiest WordPress e-commerce sites, anywhere.