Winning website driving huge growth
December 8, 2016
Ken Bell Accounting
Blue Moon Creative has been awarded Best Corporate Website of the Year at the annual ceremony of TheGoodWebGuide.co.uk for the Ken Bell Accounting website. Other winners included Foxtons estate agents and the DIT's new Exporting is Great website. Rivals for the Corporate award included Coventry University and The British Quality Foundation.
Ken Bell Accounting [www.kenbellaccounting.co.uk] might not be the largest firm of bookkeepers but, when it comes to Xero (the world No.1 online accounts software), they are giants: the largest in the UK and third largest in the world (by number of Xero licences supported).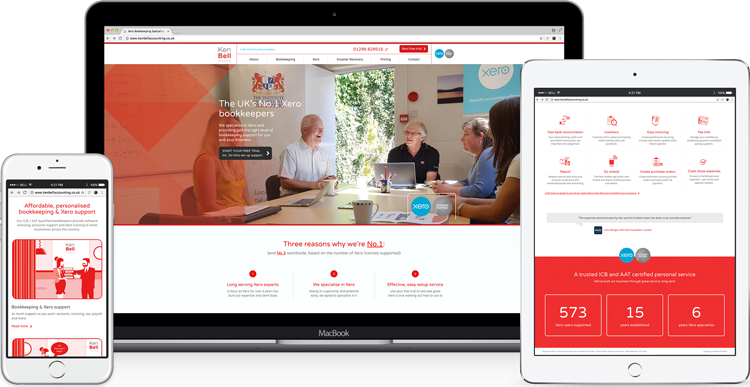 The problem
Given the firm's longevity and status, the number of new business enquiries they received each week was surprisingly low. We felt that there were some obvious reasons for this, most of which centred around the fact that, no matter how strong the recommendation, a potential client will always check you out via your website, before getting in touch. So if your website doesn't do you justice, it might be actively deterring new business. In the case of Ken Bell Accounting, their old website:
didn't show you who you would be dealing with
didn't focus on their distinctive Xero expertise and status
was not branded strongly
had little functionality
The solution
Our solution was to address all of these things by, amongst other things, leading with the Xero status, accompanied by a photo of the core team (message: credibility + authenticity), then refreshing the branding by refining the logo, creating an overall style using elements of it, including new illustrations, commissioned and created in-house here at Blue Moon (memorability + confidence + professionalism + success).
Crucially, we also added a new feature – online booking and advance payment of one-to-one Xero training sessions via Skype. This has proved such a great success that the firm is having to recruit more staff and, in the meantime, hold back demand by limiting the number of training slots available.
The firm is currently gaining three to five new clients every day – more than it used to gain in a month.
We are now helping Ken Bell Accounting to grow the website to build its SEO and other aspects of website performance.