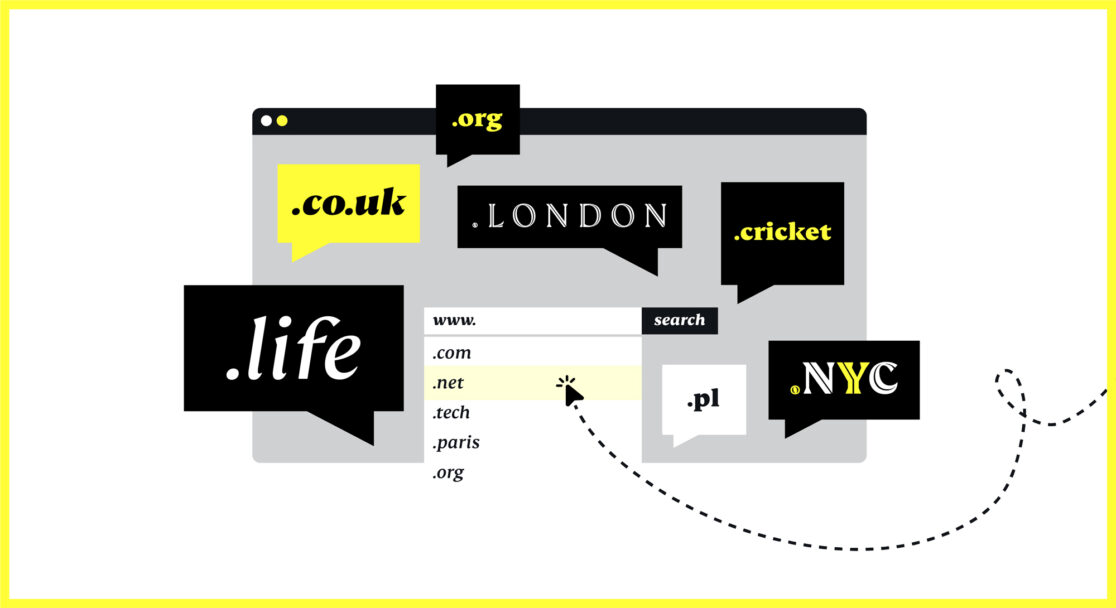 In relation to both new brands and rebranding projects, clients ask us if domain extensions such as .London, .insurance, or even .cool, are a good idea, often assuming they are good for SEO. They are not. But for your brand, they can be a real asset.
ICANN currently lists over 1,400 domain extensions, from such delights as .actor, .amsterdam and .dog, through .florist, .rocks and .sucks, to .villas and .zero. Should you opt for one of these, or stick to the conventional .com and country-specific extensions, such as .co.uk, .nl and and .pl?
Strategy before name
A surprising number of hard-headed business leaders fall in love with a name for their new brand, without thinking it through. All too often, this means that we and their teams have to then prove that, say, Geoffrey is not a great name for a sports brand aimed at energetic young women, before we do anything else.
If you are guided by strategy from the start, you avoid throwing good time, after bad names. For domain extension names, your approach should be much the same, but there are some additional concerns, such as:
Is the extension I want, restricted?
Just as company-specific names are restricted to the named company (e.g. home.barclays) so some sector names, such as .law, are restricted to companies in that sector. Any which are relevant to your new brand, are worth considering.
Could the name restrict my business?
Amongst city-specific names, .nyc is unique, so far as I can see, in being exclusive to businesses physically located in that city. Thus – provided East Village Hats wants to remain there forever AND sell nothing but hats – eastvillagehats.nyc is a perfect address for them. Better still, because the name creates expectations which the website fulfils by the truckload, the visitor stats for the website must be brilliant. This is presumably why Google clearly loves East Village Hats:  in my search, their site came second only to New York's oldest hat shop, on Fifth Avenue.
Will it say, what I think it will?
In contrast to .nyc, anyone, anywhere can use .Paris or .London. The website set up to promote the latter lists Moa.london amongst its happy customers. This is a doubtless terrific business, but it's in Budapest. The entire site is in Hungarian. Such misuse dilutes the value to browsers as an indicator of location. Worse, some extensions have been so widely abused by criminals, they are to be avoided. Semrush claims that over 99% of websites using .science and even .cricket are "shady". This is almost certainly hurting innocent businesses such as futurelegends.cricket. 
Will it promote trust?
Trust is central to whether, having found you via a search, a user will click on your link. We opted for .agency because it is widely used by creative agencies. It's thus a credible indicator of what we are. Taken with our name as a whole, it makes it pretty clear what we do and how we approach it. It is also either more distinctive, relevant or shorter than the other options we had at the time (realbranding.uk, realbranding.org.uk  and realbrandingagency.com). This makes it a valuable brand asset.
Should my business use an unconventional domain extension?
Having checked with Ian Bold at SEO specialists Aqueous and Charlotte Donnelly at the equally impressive PPC agency, YBA, the answer for businesses with an established website thinking of switching, is an emphatic No. Your existing name, complete with its extension, has built up valuable familiarity with audiences and Google alike. Switching domain names will throw that away. For new brands with no previous online presence the answer is Yes – provided it fits with your strategy, communicates what you want it to, is trusted, memorable and user-friendly.